Hot Water Systems
Prime Plumbing are the experts at repairing hot water systems and replacing when needed. No pushy sales, just honest advice on if it's worth repairing or in need of replacement. 
We believe in giving our customers the options available and letting them make an informed decision.
We supply and install hot water systems from the leading manufacturers including Rheem, Rinnai, Bosch, Dux,Thermann and many more
Call us today and speak to one of our customer service team members to find a product suitable for you.
Pricing below is for like for like replacements only*
Electric Storage   Installed from $883.00
Electric Instant    Installed from $899.00
Gas Storage         Installed from $1078.00
Gas Instant          Installed from $1032.00
Heat pumps        Installed from $2200.00
Solar hot water   Installed from $3450.00
*Extra pipework, materials and change of valves may be required at additional costs to make your system complaint with plumbing or gas regulations and complete your new installation. Prices will be confirmed onsite prior to commencing works so you understand the cost of works before we start.
*Solar hot water units and Heat pumps pricing is calculated by Prime Plumbing receiving the Rec's rebates claim
* If existing gas pipework fails a gas tightness test additional cost may apply to bring up to standards or rectify leaks
No Hot Water coming out of the taps ?
There are many different Reasons why you may have No Hot Water  
Some of these are quite easy to diagnose
Burst or leaking tank
Unable to light the hot water unit
Hot or cold relief valve is dripping water or won't shut off
Others may be a little harder to diagnose depending on the system
Tempering valve is blocked or faulty
Inline strainers are blocked
Sacrificial anode needs replacement
Thermostat or element has burnt out
EuroSit valve is faulty
Pilot injector nozzle is blocked
Thermocouple is burnt out and needs replacing 
Pump has failed or seized
Issue with gas or electricity supplying the hot water system
This is just to name a few and the list goes on.....
Which hot water system is right for you?
When replacing your hot water unit the cheapest option is a straight swap changeover.
This means you replace the unit with the same type hot water unit as previously installed.
This minimizes the need to change pipework keeping the costs down.
 
If you have never been particularly happy with the hot water to your home, It may be an option to upgrade to a unit which suits your family's needs. Every home is different so it's important to make sure the unit is right for you.
Why change to a different type of hot water unit when the one I have works perfectly fine?
Changing from an Electric Storage hot water unit to a gas storage could save you hundreds of dollars in running costs each year.


So how much does your hot water unit really cost to run?
Producing Hot water for your home can be equivalent to 25% of your Homes energy usage costs.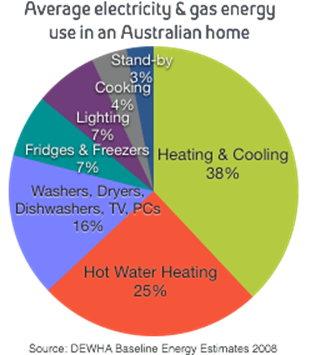 Hot Water running costs based on publicly available data from sustainability Victoria http://goo.gl/9BNOzG. Costs based on 4 persons 150L per day.
Running costs may vary from state to state as different STC's and charges from energy suppliers will alter these costs.
This will depend on the frequency and length of showers, the flow rate of the shower rose and shower temperature, use of hot water in washing clothes, use of hot water for dish washing and bathing, etc.